COVID-19 – Closed until further notice
March 24, 2020
Hello,
Due to the ongoing health crisis affecting all of us, Proof is closed until further notice.
We are so sad that it has come to this but we hope the collective action and sacrifices made by the most able in society will help the most vulnerable and bring about a swift end to this situation.
We will be back in action as soon as it is permitted and we look forward to that day.
In the meantime, we have launched a Crowdfunder page so customers can support us over the months ahead. You are also able to buy a drink for an NHS worker to redeem when normal business has resumed. Please, have a read and share: https://www.crowdfunder.co.uk/proof-chorlton-supportus
JANUARY DISCOUNTS
January 4, 2019
We have two fantastic deals available all through JANUARY!
SUNDAY to THURSDAY, enjoy an amazing discount on your bar tab: Spend £30+ for -30%.
Every FRIDAY & SATURDAY, you can buy two Foolproof Cocktails for only £10!
Come down soon!
#Ginuary Cocktails: The Martini
January 10, 2017
"Why don't you get out of that wet coat and into a dry Martini"
If you had a Martini for every time you had a wet coat in Manchester, in January, you'd spend most of it in a hazy gin daze. And whilst that sounds appealing this time of year, those New Year resolutions would most certainly get forgotten. And we don't need any less encouragement on that front already…
One resolution we'll definitely keep though – queue: brownie salute – "I pledge to drink more gin for Ginuary." Sorry Dry-January-ers, we just can't do a month without a bit of Mother's Ruin…and especially not the month of the blues. So, this week, we're showcasing a classic cocktail recipe, the Martini.
Ingredients
10ml dry vermouth (we love Dolin)
50ml of your favourite gin (we love Manchester Gin, Silent Pool Gin and Portobello Road Gin)
Method
Chill your Martini glass – preparation is key!
Stir vermouth through ice in a mixing glass for 30 seconds and discard the liquid (for a wet Martini, leave half in the glass).
Add the gin and stir for dilution. After 2 mins or so, taste & continue to stir if necessary.
Strain into your chilled glass.
Garnish with a twist of grapefruit, lemon or olives.
For those of you who like it dirty, add spoonful of olive brine to taste. Or, fancy pickling your palate? Make a Gibson using a cocktail onion garnish.
Xmas Cocktail of The Week – Terry's Xmas Flip
December 23, 2016
It's not Terry's, it's yours! And we can guarantee you'll drink the whole thing and immediately make another. Everyone's got their favourite Christmas chocolate and this is definitely one of ours. The flavours of chocolate and orange are a classic and suitably indulgent for a Christmas cocktail recipe.
So, why not take another Christmas classic cocktail, the Eggnog Flip, and marry them together. Mozart chocolate liqueur, fresh Cointreau and Cacao Blanc blended with egg and cream. Ultra-indulgent (because that's what Christmas needs more of…?), it's a new combo that's as classic as Mary and Joseph.
Ingredients
25ml Mozart Gold
25ml Cointreau
25ml Cacao Blanc
1 whole egg
2 drops Mozart bitters
25ml cream
Method
In a boston tin, mix all the ingredients together with a spoon and then dry-shake to emulsify the egg (yes, there's a whole one in there).
Then add ice and shake again.
Strain into a glass and dust with a little grated fresh nutmeg and top with a segment of chocolate orange (or at least 3 if it's Christmas day….).
Merry Christmas!
Xmas Cocktail of the Week – Fairytale of New York
December 12, 2016
Christmas party number seven done and it's not even Christmas Eve yet. Feeling like you need a break from rich Christmas indulgence already? Our new favourite Christmas seasonal, Fairytale of New York, gives you just that.
A festive take on a New York Sour (a classic whiskey sour cocktail with red wine), it still incorporates festive spice whilst giving you something more refreshing than a rich, creamy cocktail. We blend Christmas spices and cinnamon sugar to balance out the sharpness of the sour, and top it with mulled wine for a little bit of luxury. You still need a little indulgence…it is Christmas after all.
Ingredients
35ml lemon juice
10 ml sugar syrup
1 tsp cinnamon sugar
A pinch of nutmeg
25ml Rye Whiskey (we use Rittenhouse)
25ml Brandy (we use Martell)
15ml egg white
35ml mulled wine
Method
In a boston shaker, shake all the ingredients together, except the mulled wine. Strain the ingredients into a rocks glass with ice and top with the mulled wine.
Garnish with edible snowflakes and glitter spray – definitely not optional!!
Enjoy (with Christmas songs).
Check out the rest of our winter menu and seasonal favourites.
Cocktail of the Week – The Old Fashioned
November 29, 2016
There's nothing more warming than the cosiness of a good bit of bourbon. With plenty of booze and the tangy flavours of orange zest, the Old Fashioned is a classic cocktail perfect for this time of year. A simple combination of sugars and booze, aka the best kind of drink, this cocktail recipe can be played with to suit your taste.
Choose a cosy bourbon, like Blanton's Bourbon or Jim Beam, or if rum is more your tipple, El Dorado Rum makes a great cocktail. You can mix up your bitters too, a bit like our Autumn Old Fashioned on our new winter menu. A rum Old Fashioned with chocolate bitters…dessert option?
Don Draper loved it and so do we. So, to make sure you're not going thirsty on a cold winter's night, here's the classic cocktail recipe so you can lounge in your own leather wingback chair and broodingly ponder away your life…
Ingredients
3-4 drops Angosturas bitters
Zest of 1 orange
1 spoon of powdered sugar or sugar syrup
50ml bourbon or other spirit (like rum)
Method
In a rocks glass, add the sugar, orange zest and bitters. Lightly press the orange with the back of a spoon and mix, then add your spirit.
Stir until all the sugar has dissolved.
Half fill the glass with ice and continually stir for dilution. As the ice melts, add more cubes and continue stirring; taste for dilution.
Top up with ice and an optional cherry garnish.
Enjoy.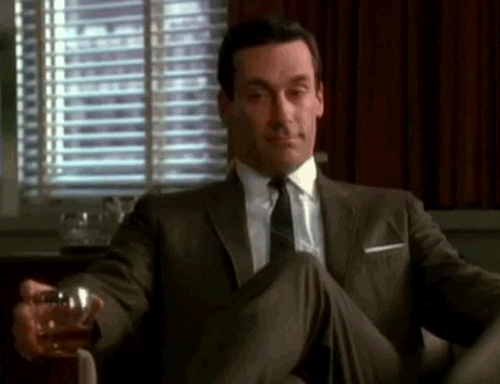 Seasonal Menu – Autumn 2016
October 27, 2016
The clocks are going back and the scarves are going on…it must be Autumn once more.
We have new cocktails and food available from November with some wonderful creations to try and some old favourites too, like the Pumpkin Fudge Scáiltín.
Please drop in soon and warm your wellies!
CAF : 20-29th May 2016
May 5, 2016
JOB VACANCIES @ proof
March 20, 2016
Are you looking for work in the hospitality industry?
Interested in working as part of a small, dedicated, customer focused team?
Do you have experience in bars and restaurants?
Are you living in the South Manchester area?
Proof is always keen to meet new people with an interest in helping us do what we do.  If you think you would enjoy working with us please call in for a chat or email a brief bio and your current CV to info@proofbars.co.uk.
Available positions:
Cocktail Bartender – (FT) (experience required)
Floor staff – (FT / PT) (experience preferred)
Spring Menu 2016
March 9, 2016
Another Year – Another Season – Another Menu
Coming soon to a table near you…
We're working hard on creating some Spring inspired drinks and amazing new dishes for you good people to enjoy. We're hoping to kick things off over Easter so look out for special events and tasting nights.  If you come in over the next few weeks you may even get to help us test a few of our ideas!